Packaging trends and innovations to prevent counterfeiting
Since the world witnessed numerous cases of counterfeit COVID vaccines, it is necessary for the pharma industry across the globe to curb the supply of such vaccines. Experts explain how improving the standards of pharma packaging using the latest trends and innovations can help in preventing this menace
Recently, several incidents of fake COVID vaccines being administered to the population of various countries were reported. For instance, the World Health Organization (WHO) had identified counterfeit versions of Covishield (manufactured by the Serum Institute of India), which became a major cause of concern for stakeholders across the world. Apart from it, Pfizer's fake vaccine vials were also found in some parts of the US, along with other parts of the globe.
Since vaccines are key in the fight against the COVID-19 virus which has held the world at ransom, the circulation of fake vaccines is a disaster in making.
Speaking in this regard, Nakul Pasricha, President, Authentication Solution Providers' Association (ASPA), highlights that the consumers need to be assured that they are receiving a genuine and safe product that is manufactured with the highest standards of quality.
He states, "Secured pharma packaging plays a vital role in protecting the integrity and inviolability of drug packaging, facilitating authentication, verification and product traceability in the supply chain. Several pharma companies already use authentication and traceability measures. For example, Johnson & Johnson is using security seals on vaccine boxes along with traceability measures on vials. Glassmaker Corning is equipping vials with black-light verification to curb counterfeiting. Apart from these authentication measures, most vaccine vials now come with a vaccine vial monitor (VVM) attached to them. These smart labels are time-temperature indicators that contain a colourless chemical that irreversibly reacts in proportion to heat and time, becoming darker to give a visual indication of cumulative heat exposure. Currently, 230 of the 248 vaccines that have been pre-qualified by WHO are required to carry a VVM."
Adding to it, Siddhartha Mitra, a pharma veteran notifies that counterfeit medicines in the Indian market are nothing new. However, vaccines made with saline solution, mineral water or with Amikacin during the pandemic is a serious issue. He adds, "High and instant demand and outstripping the supply during the pandemic initiated the possibility of production of fake vaccines. Further, R&D and the cost behind vaccine production and ensuring its safety created a huge demand-supply gap, especially in developing and poor countries. This is another reason for counterfeit vaccines."
According to Sudesh Anand Shetty, Partner, KPMG, for any fraud to occur, there has to be an incentive, an opportunity, capability and rationalisation. He says that during the pandemic, what the world saw was a booming trade in counterfeits for products used from diagnosis to treatment such as pharma consumables (counterfeit PPE and masks), drugs (fake medicines for prevention, treatment and recovery), diagnosis kits (fake COVID-19 testing kits, pulse, pressure and oximeters), treatment (scarcity of hospital beds, oxygen supply and vaccines), fake websites and apps (used to steal personal information as also to cause financial loss to individuals).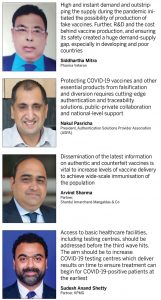 The challenges around the third wave
The vaccination drive facing India remains colossal and reported instances of fake vaccines only add to public distrust of the vaccine programme. It is critical to mitigate fears of the efficacy of the vaccines as well as assure the public of the authenticity of the vaccines to withstand the onslaught of the expected third wave, points out Arvind Sharma, Partner, Shardul Amarchand Mangaldas & Co.
He suggests, "Access to basic healthcare facilities, including testing centres, should be addressed before the third wave hits. The aim should be to increase COVID-19 testing centres which deliver results on time t