Digital age requires new concepts and methods to compete in business and support economy
As a part of Express Pharma's January 2023 cover story, Suresh Pareek, founder, Ideal Cures and co-founder, Elephant Canvass, shares his views below.
As COVID-19 becomes an endemic virus and economic considerations keep revenue and margins under pressure, new regulatory developments are emerging. Although the lifescience industry has never been at the forefront of digitisation, the COVID-19 pandemic has pushed it to catch up swiftly. The sector now recognises the value of delving deeply to learn about standardising and modernising insight-gathering procedures, embracing novel strategies for problems, and implementing purpose-built technology throughout the drug- and device-development process, from early-stage R&D through post-market surveillance.
Digital transformation paves the way for the quick implementation of Industry 4.0 pillars and concepts in pharma manufacturing. In the digital age, new concepts and methods are required to compete in business and support the economy. Robotics, Artificial Intelligence (AI), Machine Learning (ML), blockchain and the Internet of Things (IoT) are just a few of the technologies that the digital transformation has introduced to the industries and which aid businesses in improving their levels of performance, transparency and security. However, blockchain technology has the potential to have the biggest impact of all by managing logistics and inventories as well as reducing challenges with forging and theft. In the pharma supply chain, this is indeed important.
A few of the major trends will have a huge impact on how the pharma sector is going to transform in the future.
A competitive shifting landscape: Pharma businesses across the world are using cutting-edge ML algorithms and AI-powered platforms to accelerate the drug discovery and development process. Additionally, it simplifies and lowers the cost of cohort identification. As a result, pharma companies are looking at ways to use these technologies to address a range of problems, including the automation and optimisation of manufacturing processes for higher productivity, more efficiency, and a speedier turnaround on the production of life-saving drugs.
Rising role of precision medicine: When compared to other approaches, using precision medication has proved to be more successful. With the help of data analytics, researchers may be able to develop personalised treatments using an ever-growing collection of medical data. Precision medicine's speciality is shortening clinical trials' duration, expense and failure rate. Even though there is not much competition in the industry currently, given the opportunity and the size of the market, it's likely that mid-sized and smaller enterprises will enter it and provide new technology. The number of investors that support precision medicine has exceeded expectations.
Programmatic Clinical Trials (PCTs): Conventional drug trial models were put to test by the spread of COVID-19, necessitating a change to more patient-centred clinical trial designs, a rewriting of protocols to allow remote volunteer monitoring and in-home delivery, as well as the implementation of other digital capabilities, like telemedicine, to maintain clinical research viability. Programmatic Clinical Trials (PCTs) are outcomes-based, patient-centred investigations that compare the benefits and drawbacks of therapeutic interventions to support clinical and/or policy decision-making. Companies may engage with patients and inform them about each phase of the investigation process through the usage of blockchain technology. The technique can facilitate clinical study because it stores patient data. Clinical trial procedures can also be made more understandable to patients and other stakeholders.
Evolving regulatory landscape: The sector was undergoing significant regulatory change prior to the pandemic; in the post-COVID-19 environment, it now faces new challenges and priorities. Drug counterfeiting is a significant problem for the industry, and regulators continue to put pressure on businesses to lower their pricing. Because of this, the sector now needs to create tighter supply chains to ensure complete traceability at every stage. Given all the operational and regulatory constraints placed on the supply chain operations, it is imperative to include blockchain technology to resolve these problems and bring quality-driven, cost-effective products back to the market. The Regulatory Information Management (RIM) framework's simplicity is another issue the sector has. The industry requires solutions that can help with precise event capturing, action triggering, workflow management, notification management and record update control, all the way down to process automation. In order to accomplish long-term goals, these procedures can be streamlined using a variety of automation technologies, including cognitive and deep Machine Learning (ML), Robotic Process Automation (RPA) and cognitive automation.
Accuracy and transparency in supply chain: The most significant challenge facing every industry is effective supply chain management. The lifesciences industry, however, is more advanced and vulnerable since a contaminated supply chain might endanger patient safety. Particularly in pharma, there are numerous stakeholders and stages involved, i.e., from the API source to the drug manufacturer, packaging and distribution businesses and regulators, all the way through to hospitals, pharmacies, and finally, the patient. With so many intermediaries, the distribution chain is more likely to become complicated, making it challenging to track and verify authenticity. Blockchain technology would be able to demonstrate the provenance of products and offer higher security. In the pharma supply chain, it can control inventory and lessen difficulties with theft and counterfeiting.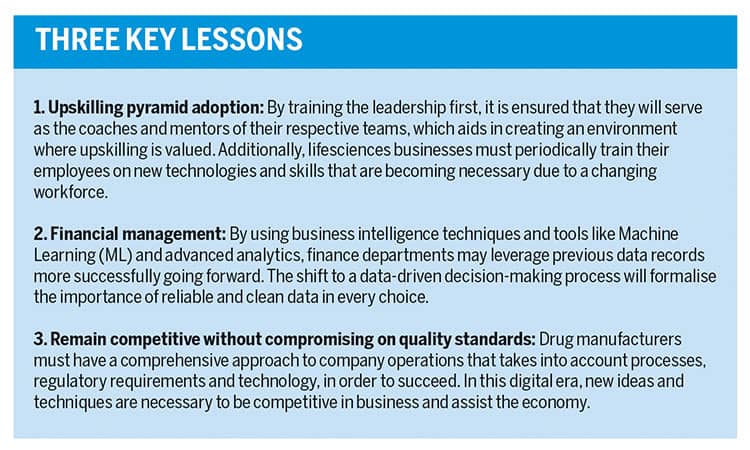 Enhancing production efficiency: Lifescience organisations utilise cutting-edge technologies to streamline their production procedures as competition heats up and regulatory requirements change. Businesses must evaluate how they can use their limited resources effectively as the scenario continues to change. Re-evaluating the ratio of internal capabilities to strategic outsourcing relationships may lead to both, opportunities and useful solutions. For instance, the manufacturing process for pharma is intricate and comprises a variety of equipment, including auxiliary e