Pharma Pro & Pack Expo 2023, one of the leading shows for pharma machinery
Dates: 14 – 16 September 2023
Venue: Hitex Exhibition Center, Hyderabad
www.pharmapropack.com
---
Analytica Anacon India and India Lab Expo—Trade Fair for Laboratory Technology, Analysis, Biotechnology and Diagnostics
Dates & Venue: April 27–28, 2023 | Mumbai
Dates & Venue: September 14–16, 2023 | Hyderabad
www.indialabexpo.com
---
3rd Annual Pharma GMP & Quality Management 2023
Dates: Virtual – March 10th , In-person – March 16th and 17th 2023
Venue: Mumbai
www.gxpqualitymanagement.com
---
Conference: Health, Wellness and Workplaces
Date: February 24, 2023
Time: 3:00 pm – 06:30 pm
Venue: Walchand Hirachand Hall, 4th Floor, IMC Building, IMC Marg, Churchgate, Mumbai – 400 020.
Link: https://www.imcnet.org/events-1941
---
PURIFY – Chromatography Purification Conclave
PURIFY Conclaves are pioneers of dedicated conferences in India that will help stretch possibilities, be it discovery, development or scale-ups!
The pharmaceutical industry continues to dwell deeper into the growing possibilities for chromatography purification; the PURIFY conclaves touches upon diverse aspects of chromatography purification.
The attendees at PURIFY get exposed to a myriad of topics that could change the way they work…change the way they purify. New separation techniques and approaches, niche topics, deeper understanding of preparative and process chromatography and allied fields, and upcoming application areas that will provide quality substance to the discerning scientists. So, if you wish to get that additional gram, which is purer, in as less a time, with minimal resources…there will surely be something for you at PURIFY conclaves!
The annually occurring PURIFY Conclave is an initiative by Custage Marketing Solutions LLP, a Mumbai-based company.
The PURIFY conclave is attended by analytical and research chemists, scientists with scale-up and process development knowledge, managers, group heads, natural product purification experts, experts from quality and manufacturing, academicians, policymakers, supply chain heads etc. of this pharmaceutical – APIs, peptides, proteins, oligonucleotides, chiral molecules, bio-pharmaceutical, fine chemicals, environmental studies, food and beverage, polymers, biotechnology, cosmetics and fragrance to understand the advancements in chromatography platforms.
So, the purification expert in you will surely get answers to the daily challenges faced for you in your laboratories. And what's more, the knowledge comes to you from dignitaries who are institutions on their own in chromatography purification and related.
---
Informa Markets in India
Event: Cleaning Validation Workshop
Venue: Mumbai
Date: 12th – 13th December 2022

Description: 
CPhI Conferences has established Cleaning Validation Workshop as a brand which is a "must attend" workshop for the pharmaceutical industry. The workshop is specially crafted to support the pharma & biopharma professionals dealing with cleaning validation in their day-to-day activities. The past 6 editions of the Cleaning Validation Workshop have been well received by industry professionals to enhance their knowledge, exchange ideas, learn from industry peers, ensure business continuity, and shape the future of the pharma industry. The successful preceding editions were led by world-renowned cleaning validation experts along with solution provider stalwarts with their diverse experience in cleaning validation solutions.
With 6 successful editions, CPhI Conferences is pleased to announce the 7th edition of the Cleaning Validation Workshop in a hybrid format scheduled on 12th – 13th of December 2022. This two-day workshop will be led by Fred Ohsiek, Former Senior Validation Expert and a globally renowned trainer who will share insights via case studies, presentations and Q&A. This course will provide training and an understanding of the cleaning validation (CV) process & will cover everything from cycle devolvement to continued process verification. Key topics include risk assessment usage in cleaning validation, Cleaning cycle development, Calculating cleaning limits and more.
Event Website:  https://trainings-im.com/Cleaning-Validation-Workshop%20-18135
Email:  [email protected]
Contact: +91 9870161397
---
CPHI & PMEC
Event: 29 November – 1 December 2022
Venue:  India Expo Centre, Greater Noida, Delhi NCR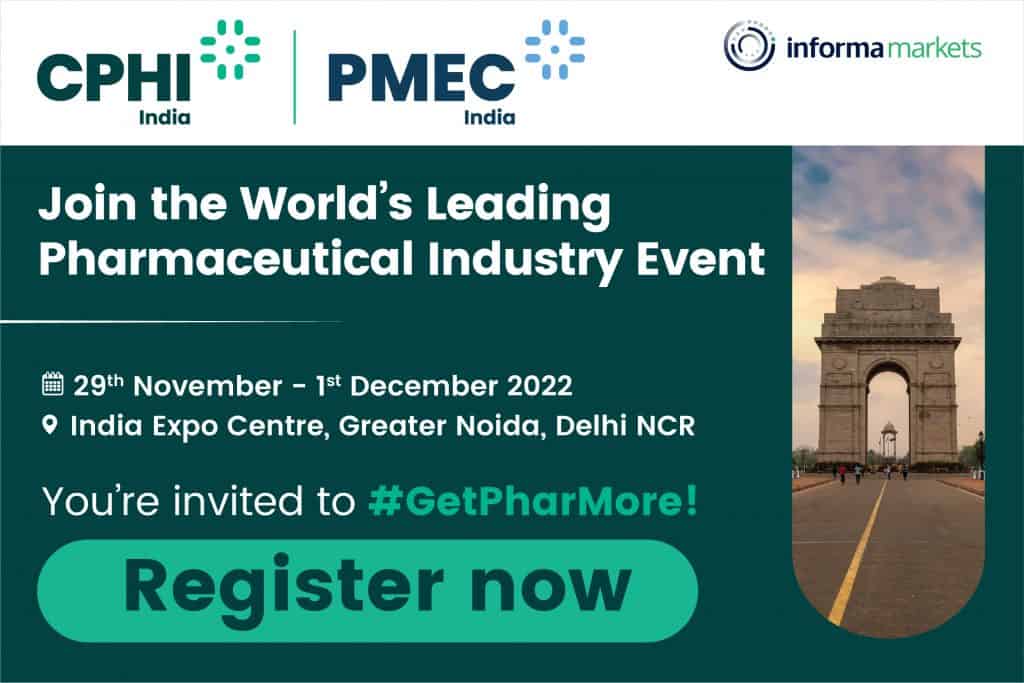 ---
CPHI & PMEC
Event: Online Event & Matchmaking
Date: 15 November – 6 December 2022
---
Informa Markets in India
Event: Pharma SCM
Venue: St Regis Mu