India Vaccine Inc's Achilles heel
Vaccine manufacturers have warned that shortages of raw materials and key manufacturing equipment are slowing down production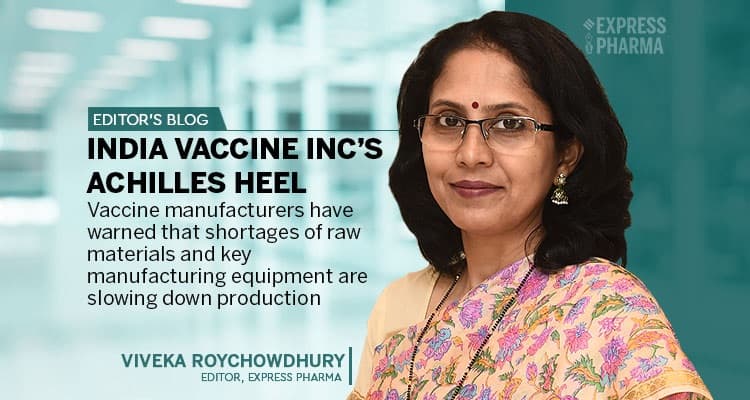 India's COVID-19 vaccination drive continues to pick up pace but with a population of over 1.3 billion citizens, a cumulative 5.5 crore (5,55,04,440) vaccine doses (as of March 26, 7 am) means we still have a long way to go.
Combined with a continuing surge in new cases across states like Maharashtra, Punjab, Karnataka, Chhattisgarh and Gujarat, and reports of new mutants/variants of COVID-19 detected in some cities, this is clearly a race against time.
For the Government of India and the country's vaccine companies, the COVID-19 pandemic is turning out to be the proverbial double-edged sword.
On one hand, this is an opportunity to highlight our prowess as a vaccine maker. Exports of COVID-19 vaccines to other countries were encouraged, both commercially by individual companies, as well as by participating in India's Vaccine Maitri initiative. As of March 15, 58.64 million Made-in-India COVID vaccine doses had been supplied to over 70 nations, on a bilateral-grant or commercial basis as well as part of obligations to the GAVI's COVAX facility.
But on the other hand, all this goodwill could be very easily lost. Echoing the proverb, 'For the want of a nail, the battle was lost', vaccine manufacturers have warned that shortages of raw materials and key manufacturing equipment are slowing down production.
For instance, in a tweet in end-February, Adar Poonawala, CEO, Serum Institute of India (SII), asked countries and governments to be patient and wait for Covishield supplies as SII "had been directed to prioritise the huge needs of India and along with that balance the needs of the rest of the world. We are trying our best."
In early March, Poonawala was quoted warning that Covishield supplies will be hit if the US does not release supplies of filters and bags. A recent US law had reportedly banned exports of these supplies as they are crucial to ramp up manufacturing of Pfizer's COVID-19 vaccine, which is the mainstay of the US' national vaccination campaign.
Thus unless these kinks in the supply chains are ironed out, not just India, but the world, could fare badly in the COVID-19 battle. Our cover story in the April edition of Express Pharma focuses on how COVID-19 was a stress test for pharma and vaccine supply chains, and how India Pharma Inc is building 'Future-ready supply chains'.
Another story, 'Vanquishing COVID-19: A multipronged battle', gives glimpses of how glass vial manufacturers like Schott Kaisha, packaging companies like West Pharma, makers of disposable syringe makers like Hindustan Syringes and Medical Devices, ramped up production to help pharma and vaccine companies meet accelerated demand.
Even as there are reports of augmenting the production of Bharat Biotech's Covaxin, the government has reportedly slowed down its Vaccine Maitri efforts, prioritising domestic vaccinations. With vaccinations opening up for the 45 years+ category from April 1, the government of India is only right to hasten vaccine coverage in the hopes that at least the hotspots will achieve herd immunity faster.
The lesson for the long term is that unless we put in place the nuts and the bolts, success will be superficial and threatened once again by the next disruption.