The evolving landscape of women's nutrition
This Women's day, Express Pharma examines the expanding arena of women's nutrition and seeks to understand its growth drivers and restraints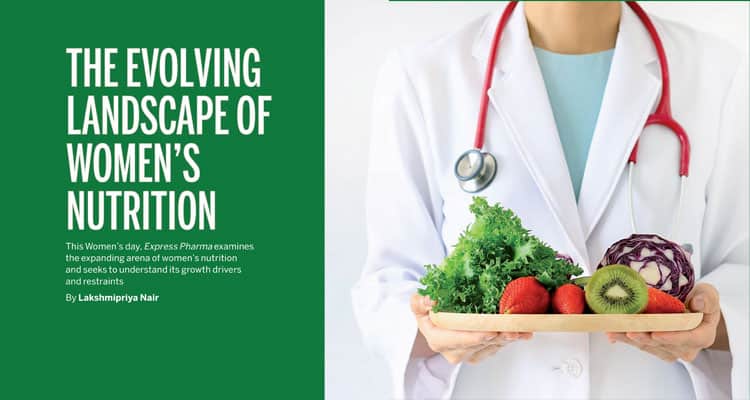 A study released in 2021 by the Tata-Cornell Institute for Agriculture and Nutrition, New Delhi revealed that the COVID-19 pandemic has adversely affected women's nutrition in India. It pointed out that women's dietary diversity saw a decline during the lockdown compared with the same period in 2019. The drop was due to decreased consumption of foods such as meat, eggs, vegetables and fruits, which are rich in micronutrients that are crucial to good health and development.
"Women's diets were lacking in diverse foods even before the pandemic, but COVID-19 has further exacerbated the situation," said Soumya Gupta, a research economist at TCI who co-authored the study along with Prabhu Pingali, TCI director; Mathew Abraham, assistant director; and consultant Payal Seth. She added that any policies addressing the impact of the pandemic on nutritional outcomes must do so through a gendered lens that reflects the specific, and often persistent, vulnerabilities faced by women.
This is an imperative for various reasons including the fact that there is a clear link between women's health and economic growth and productivity of communities and countries. As Anjula Masurkar, Clinical Director, Entod Pharmaceuticals explains, "Promoting female health helps to achieve other desirable targets apart from economic development, such as greater fairness in access to healthcare, promoting female empowerment, and improving the physical well-being of women and children. Women can be powerful instruments of social change. When women are healthy, educated, and empowered, they are more likely to take leadership roles in the community. The time has come to put women's health and wellness at the top of the investment and science research lists, or at least equal with other opportunities, because to do so not only affords investors the opportunity to make meaningful returns, but also because of the positive impact such investments will make on society in general."
Fortunately, since stakeholders and consumers have seen the need and opportunity to expand access and availability of nutrition to women. Experts have been rooting for 'gender budgeting' for sustainable progress in women's health. The industry too has seen the huge growth potential in this segment and is striving to cater to the rising demands.
In an article carried by Express Pharma last year, Suchi Ray, Partner Deloitte India quotes, "Overall, women's health therapeutics have established a strong presence in the global pharma market over the last few decades and the market is expected to grow moderately. Innovations coupled with technology focusing on correct nutrition and safety i.e. prevention is the key to women's health." (Read https://www.expresspharma.in/is-womens-health-gaining-momentum/). In turn, the market for nutraceuticals and dietary supplements for women has seen a huge boost.
Understanding the market for women's nutrition
A Data Bridge Market Research report informs, "On the basis of type, the women nutrition market is segmented into sports nutrition, additional dietary supplements, personalised nutrition and others. On the basis of product, the women nutrition market is segmented into vitamins, proteins, minerals, fluids, probiotics, omega 3 and others."
The major players in the Asia-Pacific women nutrition market are Abbott, GNC Holdings, Amway India Enterprises, ADM, Bayer AG, Danone, BHI Biohealth International, Swisse Wellness, Uniliver, Nestlé, GlaxoSmithKline, General Mills, Kellogg Co. among others, as per the report.
However, the women's nutrition market in India is also seeing a lot of newer entrants. While companies like Kapiva and Sudeep Nutrition have products that cater to women, brands such as Chicnutrix, Oorah Nua etc., are wellness and nutrition brands that exclusively focus on products that serve women's needs ranging from PCOS to pregnancy, menopause, motherhood and other challenges. Reports reveal that vitamins and minerals segment grew the fastest due to various diseases in women and growing vitamin deficiencies in women. However, proteins and amino acids segment is also likely to see robust growth in this decade. Likewise, dietary supplements segment will acquire a major chunk of the women nutrition market due to swelling demand of healthy lifestyle choices and healthy food habits.
Giving a more detailed overview, Shanil Bhayani, Executive Director of Sudeep Nutrition says, "Women are growing aware of the importance of consuming essential nutrients in the right quantity. They, unlike men experience multiple health problems, including gynaecological health and disorders such as menstrual irregularities, urinary tract health, uterine fibroids, PCOS, etc. In addition, adult women are at risk of developing ovarian and cervical cancer too. An increased number of experts suggest consuming nutraceuticals that provide extra health benefits in addition to the basic nutritional value found in foods. As it stands, many women have incorporated nutraceuticals in their daily lives to treat menstrual disorders as it has anti-inflammatory and smooth muscle relaxing properties."
He informs, "We are witnessing a growing trend for cranberry and bearberry-based nutraceuticals that are preferred by young adults to treat urinary tract infections, a common bacterial infection in women. Focused on prenatal vitamins, nutraceuticals loaded with iron, calcium, iodine, and vitamin A, C, D, as well as probiotics etc. that help to bridge the gap by providing extra micronutrients are also high in demand during pregnancy. We have seen many women who have turned to nutraceuticals to stimulate milk production in pregnancy. A lot of women are opting for nutraceuticals such as melatonin, vitamin E, chasteberry, flaxseed, etc. to manage life-altering symptoms of menopause."
Ameve Sharma, Co-founder, Kapiva states, "To say that the women's nutrition market is ever-evolving would be an understatement. Every year, we see a new selection of ingredients and trends rise to prominence in this industry. With each passing day, women are becoming more and more conscious towards their lifestyle choices."
Adding that "modern, easy to use formats that serve nutrition at ease such as juices, powders, effervescents that are the preferred product forms," he emphasises, "Consumers are more health and wellness-conscious than ever before and the major focus has shifted towards health and nutrition. Therefore, we are excited to bring more and more ayurvedic superfoods to the nutrition industry."
Restraints to growth
Women's nutrition is an advancing segment and has been seeing steady growth but there many challenges that could derail progress. To cite a few examples:
◆ Societal taboos and stigma: Women's health has been an area which has been ignored and neglected. Often, they are disadvantaged by discrimination rooted in socio-cultural factors. Emcure Pharmaceuticals, released a report in 2021, on notions and misconceptions about women's health/issues/concerns prevalent in India. It reveals that as a result of cultural and social context in India, nearly 50 per cent women are still hesitant to discuss about women health issues such infertility, endometriosis, menstrual struggles and uterine infections. Women also face pressures and taboos that are part of the societal structure and interdict women from behaving in a certain way. The expectation to prioritise family over work is one of the most common of such pressures. Women also face discrimination in getting married if they face any gynecological issues.
◆ Inadequate investment, policies and regulation: Investments in women's health and nutrition, both at the public and private stakeholder level, is inadequate despite a few measures in the right direction. For instance, though at the public health level, POSHAN 2.0 has been launched by the FM to "strengthen nutritional content, delivery, outreach, and outcomes", confusion over the objectives and implementation of the new programme, has led to under spending in this arena