On the second day too, the panel discussion on the trends and opportunities regarding the oral solid dosage forms saw Dr Vinod Arora, Principal Advisor, Institute of Good Manufacturing Practices India (IGMPI) as the moderator of the session. The other panellists included Dr Kavita Inamdar, CTO, Indoco Remedies; Dr Krishnakanth Gandhi, MD, Solinova Life Sciences and Ravi Kochhar, Head, R&D, Beximco Pharmaceuticals, Bangladesh. The panellists began the discussion by deliberating on various dosage forms like mini tabs, micro tabs, etc. One of the panelists, Kochar, said that such tablets are the way forward. Further, moving along patient-centric dosage forms and ease of dosing, this trend will go on and one has to build upon it, he stressed.
Going forward, the panelists discussed about the fixed-dose combinations and their clinical as well as business advantages, along with the role of continuous manufacturing in the Indian pharma industry. Dr Gandhi highlighted that continuous manufacturing is not new in the industry. Before the pharmaceuticals, oil refineries, chemicals, synthetic fibres, fertilisers, power generation, natural gas and waste water management are the various areas where continuous manufacturing concept is being used, he informed. He also said that there are three major factors driving continuous manufacturing – initial investment set up, regulation and technology. Thus, it is the right time to focus on it.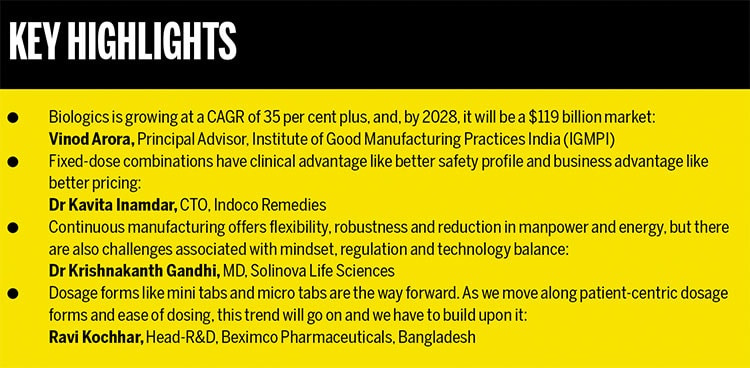 In addition to it, the panelists also shared their views on digital medicine. Dr Inamdar, in this regard, informed that Abilify – a drug approved for schizophrenia that has an ingestible sensor embedded in the pill that records that the medication was taken – is the only US FDA-approved product at present. According to Dr Gandhi, digital medicine is still an emerging technology, and will take a lot of time to come up in a market. Kochar said that this technology is being used more in inhalers incorporated with a chip. Nowadays, there are inhalers that measure the force at which inhaler was taken, whether the dosages were taken in time or not – all that information is recorded and gets conveyed to the physician, he mentioned.
The panellists later discussed upon the oral biologics, and, during the discussion, Dr Gandhi notified that all big generic companies are currently focussing on injectables and a lot of small startups in the Europe and the US are working in the area of biologics, in terms of giving it by the oral route. He also said that currently, the biologics are taking a pace because of the capabilities in the metabolic disorder, ageing-related factors, inflammatory diseases and other chronic conditions.