3rd PURIFY Conclave to be held in Ahmedabad
At PURIFY'22-West, experts will deliberate on topics like analytical development, research, kilo-labs and production teams to further empower themselves with the latest global advances in chromatography as a purification tool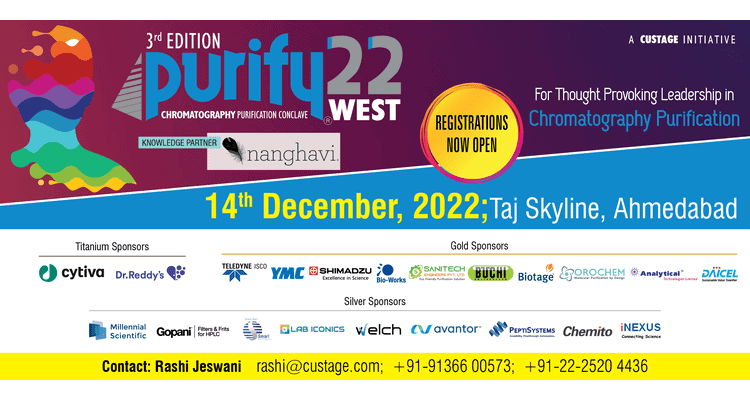 The 3rd Purify Conclave is scheduled to be held on 14th December, 2022, in Ahmedabad.
During the conclave, experts will deliberate on topics like analytical development, research, kilo-labs and production teams to further empower themselves with the latest global advances in chromatography as a purification tool, something that is growing rapidly; and technology advances are playing a key role in its acceptance and use.
Leading speakers from India and overseas are going to address key issues and concerns that would impact the way industry people would 'purify' tomorrow. Setting a landscape for this event, is the 'first-of-its-kind' panel discussion on "The Future of Chromatography Purification: The Users' Perspective."
Speakers at this conclave include some of the biggest names in chromatography and the attendees are experts in their own right. They would take the dais coupled with the sponsors of global acclaim – Nanghavi, Cytiva, Dr Reddy's, Teledyne, YMC, Shimadzu, Bio-Works, Sanitech, Buchi, Biotage, Orochem, Analytical Technologies, Daicel, Millennial Scientific, Gopani, Smart Tech, Lab Iconics, Welch, Avantor, PeptiSystems, Chemito and iNexus.
PURIFY conclaves are guided by its high-profile and acclaimed advisery board members who are drawn from the industry and actively participate in its build-up!
Besides high-quality content and one-of-its-kind business networking opportunity, at PURIFY'22-West, attendees will be exposed to an exhibit zone with close to 30 exhibit tables that will have companies showcasing their best in technologies to the delegates.
The last edition in Hyderabad witnessed a footfall of 223 scientists from across 26 cities.